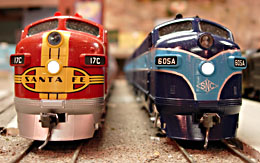 Due to the Howard Hansen dam debacle, the Kent Activity Center has been closed and our 24' X 36' layout was removed and design work and construction is under way for a new layout at our new location. The main layout is HO scale and our railroad is the fictitious Seattle and North Cascades Railway, a bridge route connecting the Pacific Northwest to the Midwest. We also have an HO scale and an O scale set of modules that we operate at local shows, swap meets and open houses.
Membership in this club is open to Boeing employees, Boeing retirees, vendors of Boeing, customers of Boeing, contract and government personnel assigned full time to The Boeing Company, and spouses and dependents of the above only.
Visitors are welcome with prior arrangement; please contact one of the club officers listed below.
Download 2013 membership application.

Get the latest Adobe® Reader®
See new layout progress UPDATED
SEATTLE AND NORTH CASCADES RY LAYOUT TOURS (HO layout and O modules)
Click here to begin tour of HO layout.
Click here to download track diagram of HO layout.
Click here to tour of O scale modules
HO Module Chairman - Sandy Webster O Module Chairman - Michael Andresen
PROTOTYPE PHOTOGRAPHY
Click here for BN Cascade Memories
Click here for Norfolk Southern action
Click here for BNSF Cascade Tunnel
Click here for Iron Goat Trail scenic hike
Click here for Skykomish to West Portal
Click here for Steamtown, Pennsylvania
Click here for BNSF 06/12/2010
Click here for BNSF Gaynor Trestle
Click here for NC Trans Museum
Click here for Kalama WA
Click here for UP 844 and SP 4449
Click here for Kauai Plantation Railway
Click here for White Pass Yukon Route
Click here for BNSF 07/17/2010
WORK SESSIONS

-HO module work sessions are held every Monday at 11:30 AM.
-General work sessions are held every Wednesday at 7:00 PM.(temp suspended)
-Informal operating sessions are every Tuesday at 7:00 PM.(temp suspended)
-Formal operating sessions are held last Friday of the month at 7:00 PM.
-All of the above sessions are or will be held at our new location.



We are now on

Facebook